You've got a new (or new to you) Airstream—what upgrades should be first on your list? Alumapalooza 7 attendees learned about these favorites from Rich Luhr, author of Airstream Life's (Nearly) Complete Guide To Airstream Maintenance and Terry Halstead, an ASE certified master mechanic and Airstream factory-trained service tech.
"This is by no means a comprehensive list," said Luhr. "There's probably five hundred more things that we could add, and not everything on this list is for everyone. These are just a few great upgrades that you might want think about having, and see if they fit your lifestyle."
1. A cordless drill
"…so you don't have to kneel on your hands and knees in the mud to put your stabilizers up and down," said Halstead. Use it with a Camco 57363 Leveling Scissor Jack Socket, available on Amazon for about $5.
"It's a really great timesaver." Luhr agrees. "Whatever brand of drill you choose for this purpose, make sure it's 18-volt or stronger."
2. In-line water pressure regulator
"Airstream trailers come with a built-in pressure regulator, but that does absolutely nothing for the hose," said Halstead. "This goes on the spigot at the campground to give protection to your hose. I've personally been to a couple of campgrounds over the years that have had a horrible amount of pressure. So this little ten dollar device will save your $30 hose."
[NOTE: If you have our Ultimate Water Hose you won't need a regulator at all! The Ultimate Water Hose can take up to 360 psi without damage.]
The regulator prevents bursting by reducing what could be 120 psi on the spigot end to about 50 psi on the trailer end— and you won't further reduce your water pressure inside. "Don't forget to put this on your checklist so you don't drive off and leave it at the campsite," added Halstead.
Another pro tip from Luhr: "Put your water filter on the trailer end of the hose in case the hose itself might be a little bit contaminated."
3. Range hood LED
Your newer Airstream came with a Baraldi, "the Italian sports car of range hoods," said Halstead. "They look really great, and they work really great, but they do have one minor thing that could be upgraded": the lights above the stove are halogen.
"Those do two things," he said: "generate a lot of heat, and use a lot of power." "Fifteen watts," added Luhr. "That's a fair amount for one light when you're boondocking." Simply pull out the bulb and replace it with an LED—problem solved. "That will cut your power consumption about 90% off those halogens," said Halstead. "You can find them in various places online and at RV stores," said Luhr. "Good LEDs aren't cheap, and cheap LEDs aren't worth it. They usually have a very short life. Ten to fifteen bucks is pretty reasonable for a good-quality LED of this type."
"These are really simple, and they do a couple of things," explained Luhr. "Just put it into any outlet in your Airstream when you're plugged into shore power, and it will tell you the voltage that you've got available—which is super important. It's quite possible that the electrical pedestal at your campsite has a wiring problem, and that can actually be hazardous to your health."
There's a reason we need to worry about the voltage coming into our trailers. "We know that it's supposed to be 120 volts," Luhr explained. "Rarely is it actually exactly 120 volts; there's a tolerance. Your appliances are going to be fine plus or minus ten percent." Drop much below that, though, and you're at risk of burning out certain appliances—especially your air conditioner.
"Under-voltage is by far more problematic," said Luhr. "Your air conditioner typically can go down to 105, but when you fire up your air conditioner that big compressor draws more power." If your voltage meter shows 108 you might be okay, but keep an eye on it as it starts up; if the voltage suddenly drops down near 102 for more than a few seconds, "you're going to very quickly burn out the motor in your air conditioner and you'll be facing a big bill, either to fix it or replace the entire unit," he said.
"You read online sometime, guys who say 'it's okay, I run my Airstream off a 15-amp outlet, I do it all the time.' Well, you can get away with some things, but I don't recommend playing Russian roulette with your air conditioner, with your plug, with your cord. Watching your voltage is very important, and it doesn't matter if you're in a brand-new campground—especially on hot humid days when everybody's cranking. So this is an item you definitely should have." On a summer day, leave the meter plugged in and periodically glance at the voltage readout to make sure it doesn't get below a safe level. The AC compressor could be cycling on and off, and each time it will draw extra power.
"A rivet tool is a surprisingly easy thing to learn how to use," assures Luhr. "Basically you just stick a rivet in, hold it tight, pop the handle of the tool a few times, and the stem of the rivet breaks off when you're done. It's so simple. It's easier than a screwdriver, honestly." Halstead said, "That's actually an advantage of owning an Airstream trailer. The rivets are extremely easy to install."
Do you really need to travel with a rivet tool? Luhr says yes, and here's why. "Someday there will be a corrosion problem where the aluminum and steel frame meet on your belly pan, and it will rot out around the rivets and fall down and drag on the highway," he said. "If you don't have a rivet tool, that's a major problem. If you have a rivet tool and some aluminum pop rivets it's only a five-minute problem that you can fix yourself, right there by the side of the road."
A rivet tool is handy for replacing popped interior rivets as well, and can save you a lot of money. "Missing one or two inside rivets is not a serious problem; it's actually perfectly normal," said Luhr ("especially after traveling over rough road," agreed Halstead). With your handy rivet kit you can solve the issue yourself, no trip to the service bay necessary.
"It's a no-brainer," said Luhr. "There are 5000 rivets in the average Airstream. You should probably be able to replace one of them."
…is another item Luhr feels strongly about. "Your Airstream did not come with any tools to change a tire. This is baffling to me. They give you a spare tire, but no way to put it on." Luhr believes that a AAA membership is not a good substitute for knowing how to change a flat.
"Everybody should know how to change their own tires, even if they don't plan to do it," he said. "You may be physically unable to, but if you have the knowledge and you have the tools with you, then at least somebody else can change the tire. The alternative is calling for roadside assistance, which might seem to be a great solution, but you'll be sitting by the side of the road for hours, in a place you often do not want to be," he said. "Waiting to have someone come to change a tire for you is like hiring somebody to dress you. If you could just do it yourself it would be so much easier."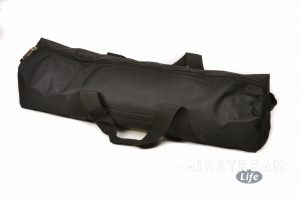 "It's not hard to change a tire," Luhr said, who offers a tire changing kit in the Airstream Life store. "I sell it because I believe people need it, but if you buy all these items yourself you'll spend the same amount of money. Just buy the tools."
The basics are a torque wrench (essential for correctly tightening the lug nuts when you put the wheel back on); a breaker bar (used for removing the wheel); an extension, and a socket.
The complete tire changing kit is also packed with a safety vest for roadside visibility, a pencil gauge to check the air pressure, and a six page instruction manual that explains exactly how to change a tire. "If you read that manual and take the kit out and try it, you're going know how to do this simple job," said Luhr. "Then you just throw the kit in the back your trailer and never think about it again until the day you need it."
If you choose to buy all the parts separately, "make sure you don't skimp on the torque wrench," said Luhr. "Cheap torque wrenches are not worth the money."
"Remember, the torque wrench is for tightening," added Halstead. "It is meant to be used in one direction, and it will let you know when you've reached the proper torque setting, usually with an audible click. If you use it to loosen the lug nuts, you're going to throw off the calibration and it won't be accurate after that. Bad things happen when you don't torque the lug nuts correctly."
"Storage facilities are not safe," cautioned Luhr. "I hear reports almost every month from people who have lost their Airstreams out of supposedly secure RV storage that had 24-hour management living on site, with video cameras. Just last month some friends of mine found out that someone had broken into their stored trailer and the thousands of dollars worth of their tools inside were all gone. Management didn't even know—and it turned out that the videocameras were fakes."
Cheap hitch locks provide zero security. "You can see a video on my website where they take about ten different hitch locks and defeat them all anywhere from between five seconds and two minutes," said Luhr. "If you spend about $40 or $50 on a lock I guarantee a thief could break into that it within thirty seconds." Thieves can't break a MegaHitch.
The $200 price tag "is a big expense," Luhr admits. "And it's heavy. But it works. If you're keeping a $70,000 or $100,000 Airstream on a storage lot, $200 is not a lot of extra money. I strongly recommend it." Halstead added, "Check with your insurance company. If you have proof that your trailer was locked with one of these, in most cases they'll waive the deductible for theft."
A flat tire can do lot more damage to your trailer than you might think. "It doesn't just go flub flub flub and then you come to a stop," said Luhr. "Often you have no idea that you've had a flat because it's 'way back there on the trailer as it starts to shred. It rips up your Airstream, destroys the wheel, creates a hazard on the road, and it leaves you with a thousand dollars of damage that could've been prevented." While highly recommended, the TST tire pressure monitoring system is again, not cheap, but it's the best. "There are many others out there that are frankly garbage," said Luhr.
If you've noticed the items on this list have been increasing in price, you're correct—and solar panels are definitely one of the most expensive Airstream upgrades. If you're considering going solar but don't want to make too great of an initial investment, portable panels are a good alternative.
"You can get anywhere from 40 to 200 watts; they fold up into a carrying case, they have their own charger, and they're easy to use," said Luhr. "Just plug them in, and they charge your batteries." Luhr prefers the Go Power brand over Zamp. "They're a little bit less expensive and the quality is excellent," he said. "The 120 watt system comes with everything you need, and you can get a 7-way adapter that plugs right into your umbilical cable, no special wiring."
If your trailer came with a factory-installed solar port that says "Use only Zamp", the Go Power panels will plug directly in and work with it! Click here for more info on that.